About LPL
---
LPL Financial is one of the leading financial services companies and the largest independent broker/dealer in the nation*. For more than four decades, the firm has served as an enabling partner, supporting financial advisors in their goals of protecting and growing their clients' wealth. A chief objective of LPL Financial is to reduce the complexity of running a financial services practice so advisors can focus on what they do best help their clients attain their financial goals and fulfill their dreams.
With headquarters on both coasts, LPL Financial supports financial advisors in helping their clients by offering a robust mix of services and tools such as:
Enabling technology
Comprehensive clearing and compliance services
Practice management programs and training
Independent research
Thousands of financial advisors nationwide rely on LPL Financial to help meet their clients' financial needs. They do so by using the firm's tools and resources that help them discover their clients' priorities, dreams, and passions; analyze and develop financial plans that support every stage of their clients' lives; and make product recommendations that put clients on the path to pursuing their goals.
For more information about LPL Financial, visit www.lpl.com.
*As reported in Financial Planning magazine 1996-2016, based on total revenues.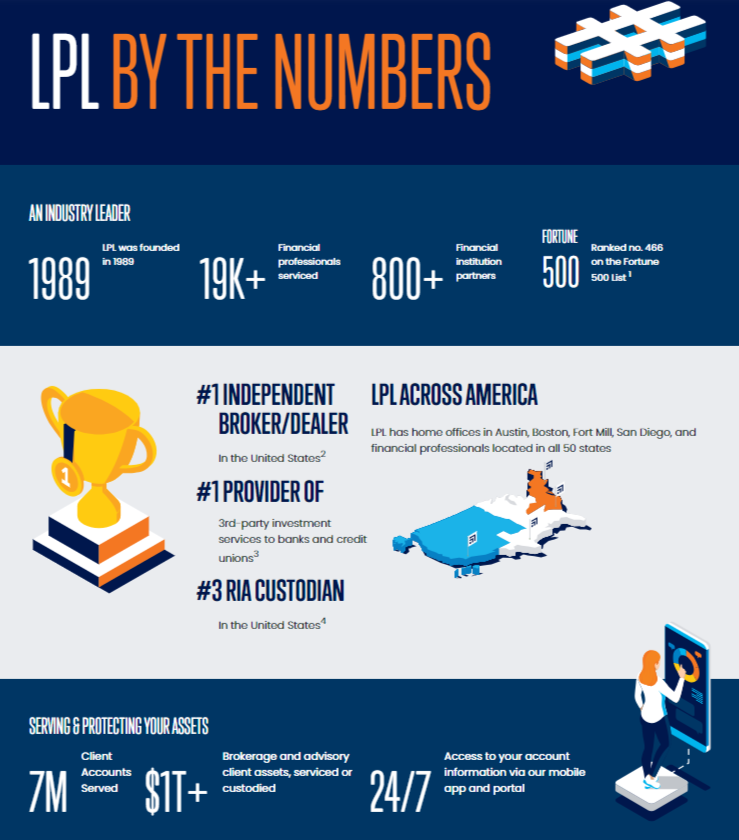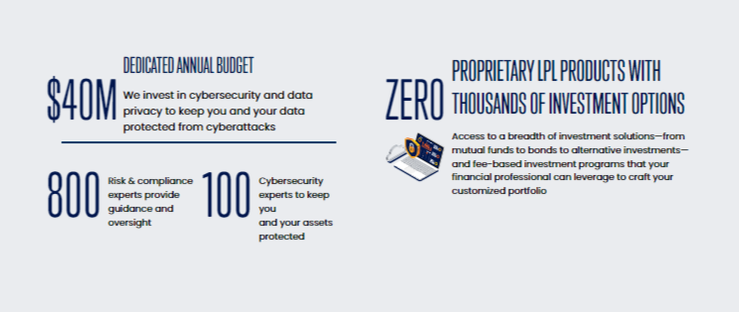 Data as of April 3, 2023
Fortune 500 ranks U.S. companies based on a review of the prior year's total revenue and factors such as profits after taxes, year-end assets and total stockholders' equity.
As reported by Financial Planning magazine, June 1996-2022, based on total revenue.
2021-2022 Kehrer Bielan Research & Consulting Annual TPM Report. Based on market share of AUM, revenue, and advisors.
Cerulli Associates, 2022 U.S. RIA Marketplace Report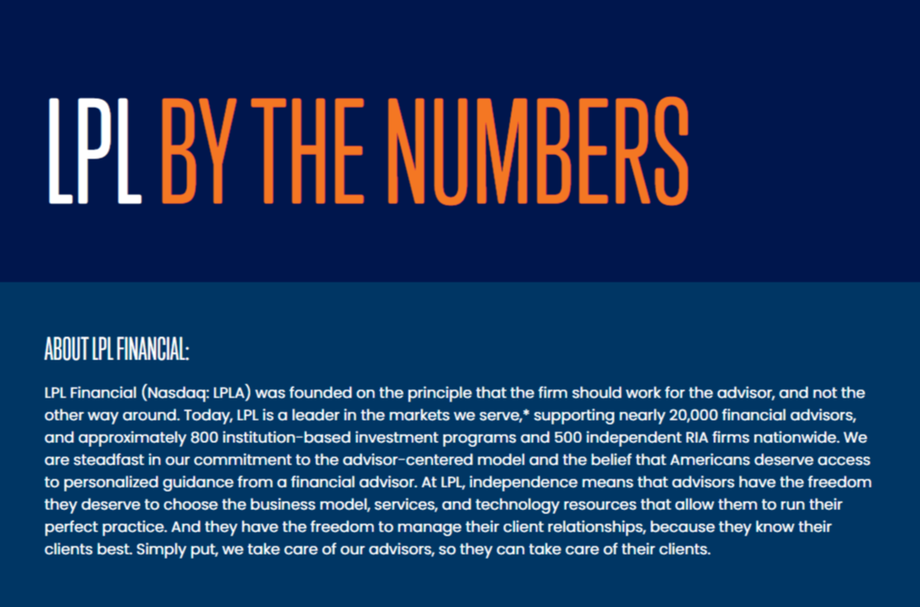 *Top RIA custodian (Cerulli Associates, 2020 U.S. RIA Marketplace Report); No. 1 Independent Broker-Dealer in the U.S (Based on total revenues, Financial Planning magazine 1996-2021); No. 1 provider of third-party brokerage services to banks and credit unions (2020-2021 Kehrer Bielan Research & Consulting Annual TPM Report); Fortune 500 Company as of June 2021. LPL and its affiliated companies provide financial services only from the United States.
This material was prepared by LPL Financial, LLC.
Securities and advisory services offered through LPL Financial (LPL), a registered investment advisor and broker-dealer (member FINRA/SIPC). Insurance products are offered through LPL or its licensed affiliates. To the extent you are receiving investment advice from a separately registered independent investment advisor that is not an LPL Financial affiliate, please note LPL Financial makes no representation with respect to such entity.
If your financial professional is located at a bank or credit union, please note that the bank/credit union is not registered as a broker-dealer or investment advisor. Registered representatives of LPL may also be employees of the bank/credit union. These products and services are being offered through LPL or its affiliates, which are separate entities from, and not affiliates of, the bank/credit union. Securities and insurance offered through LPL or its affiliates are:

LPL Financial representatives offer access to trust services through The Private Trust Company N.A., an affiliate of LPL Financial, a registered investment advisor. Member FINRA/SIPC.

MC-1077821-0322 Tracking #1-05252342 (Exp. 03/24)